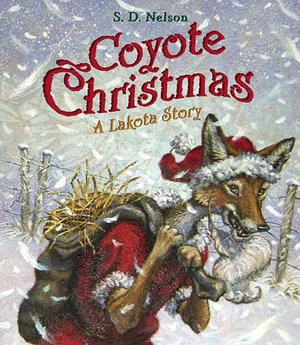 Written and Illustrated by
S.D. Nelson
Acrylic Paint on 140-lb. cotton paper
Abrams Books for Young Readers
Oh, this is a fun one. It's an original story, and does a great job of bringing Trickster Coyote of many an age-old tale into a contemporary Lakota reservation. Despite the fact that it is appears to be a heart-warming Christmas story, the mere presence of such a trickster figure means it will have an unpredictable way about it.
Nelson describes it very well with a note at the end of the book:
When it comes to good and evil, Coyote is not the same as the Devil found in the Judeo-Christian tradition. Instead, Coyote reveals the paradoxical nature of life, capable of both good and evil. He reminds us that all of life is in a state of constant creation and destruction.
"On a more fundamental level, Coyote's antics offer insights into an underlying dynamic of life itself - order and chaos," he writes. "Coyote, of course, is the one who delivers chaos."
So then, in this particular incarnation, it is a snowy Christmas Eve, and Coyote is - as usual - cold and hungry. However - also as usual - he has a plan, a plan which involves passing himself off as Santa Claus and inveigling his way into the warm home of the two-legged creatures with the good food. In so doing, Coyote seems to unwittingly tap into a deeper magic than he bargained for.
The sack full of straw which he had brought is transformed into a sack of wrapped packages, containing the very presents the children had wanted.
"Oh Santa, thank you!"
And there is even more magic to come. Curiously, instead of embracing this turn of events, Coyote is rightfully freaked, and dashes off, back into the coldness. At least he got his fill of meatballs.