One man's quest for knowledge through the lens of children's picture books! Focusing on the mythological, the spiritual and the socially progressive in stories and storytelling.
5.30.2013
Written by
Eileen Kiernan-Johnson
Illustrated by
Katrina Revenaugh
Cut paper
Huntley Rahara Press
I was happy to receive a complimentary copy of this book in the mail the other day, and I found it to be a fun little tale, lively written, and pretty cool cut paper illustrations which really bound with joy on every page.
It is the story about a boy who wears dresses - and tiaras, and sparkly butterflies - and his parents who try to encourage him, and these fiendish girls who constantly rag him about it. "Your sparkles are really starting to annoy. When you wear clothes for girls, how do we know you'r
e a boy?"
It seemed to me clearly to be a book written for families dealing with this very issue themselves, and how to handle it, so that they know they are not alone. Though I thought the prose bounced along cleverly enough that I could see it having more widespread appeal, such as:
If girls can wear boy clothes, why not the reverse?
Do colors

have meaning? Is purple inherently perverse?
All the colors are brought out and disected, some are boyish, some are girlish, the proper things that boys should be interested in and not interested in are listed in detail. The further and further it went, the less it seemed to me to be about one particular boy who just happens to like pretty, pretty things, but a good rumination in general on why it is that such things are so divided by gender. As the parent of a non-cross-dressing boy who loves trucks and fashions anythig into a gun, these issues do come up regardless.
Not surprisingly, the book was written about the author's own son. Looking her up, I found her blog which I felt was pretty interesting, and goes into more detail and emotional honesty than the upbeat ending of the book delivers: "We like you for you, whatever you wear."
After her son had decided that he wanted to start wearing boy clothes because of the comments of some of his classmates, Kiernan-Johnson writes: "I suppose it was inevitable that the weight of peer pressure would reach him at some point. I just imagined that it would be further down the road, that we'd have more time to inhabit our happy little bubble of authenticity, that he could obliviously be who he is without the burden of arbitrary societal dictates intruding on that. It isn't that I want my son to waltz through life in a ballgown; it is that I don't want the world to crush his spirit and stamp out his unique way of being. I don't want it to burst his bubble."
I don't think she has to worry about the world crushing his spirits just yet (that doesn't happen until you start working), but it did make going back reading the joyful exuberance of "Roland Humphrey" a bit bittersweet, and for me, more meaningful.
2.23.2013
Watercolor
Text set in Garamond
It was mating season at the Penguin habitat in the New York Central Zoo, love was in the air. Penguins began pairing off, including two especially loving, sweet penguins named Roy and Silo.
Yes, they were both dudes, but that's not the controversial part.
When the other happy penguin couples found themselves in a family way and began spending their days and nights keeping their eggs warm, Roy and Silo – not to be outdone – found an egg-shaped rock upon which to sit. They took turns sitting on that lifeless rock, determined to keep it warm and safe. In their own way, they loved that little rock.
Then, in a fateful moment of inspiration – in an action which would have profound consequences throughout public schools and libraries the country over and serve as a lightning rod for free speech and civil rights issues – a clever zookeeper got the swell idea to substitute that egg-like rock for the real deal.
One day, the egg hatched, and a baby penguin pup was born. His name was Tango.
And Tango Makes Three was published in 2005, written by Justin Richardson and Peter Parnell. It is the true account of the birth of Tango, and of the attempts made by Roy and Silo to raise the young penguin pup as their own, and of the acceptance this unlikely family finds in the zoo. It is an incredibly sweet story.
The first I'd heard of the book was thanks to my good friends at Wolfgang Books. Distinctly do I remember that Saturday morning, browsing about their second floor bookshop in Phoenixville, Pa, with Arlo and a cup of coffee, when I saw the display table of banned and challenged books which they had set up in honor of Banned Books Week.
Just the words, "Banned Books" hold a certain, sexy allure. On the table were the usual suspects: Huckleberry Finn, The Giver, Animal Farm, all wonderful titles which I'd of course read and loved. But there was one book which did not initially seem to belong, and it was that book to which I immediately gravitated.
There is absolutely nothing about the look of And Tango Makes Three which hints at anything approaching even slightly controversial content. The cover depicts two gender-neutral looking penguins cuddling with their tiny pup, looking about as snug as a bug in a rug as penguinly possible. There is a golden sticker in the left hand corner showing that this book is a winner for the ASPCA Henry Bergh Children's Book Award. On the back are glowing quotes from the likes of Maurice Sendak and John Lithgow. If it had been in any other section of the bookstore, I would have most likely barely given it a second glance, though – as I said – there is a certain undeniable allure to the banned book which I am powerless to resist.
Ten minutes later, I bought it, and was thus able to support not only gay rights, but also free speech and my local independent bookshop all with the same purchase.
Later that afternoon, with Arlo cuddled next to me on the couch at our home, I read it aloud.
"Every year at the very same time, the girl penguins start noticing the boy penguins," I began. "And they boy penguins start noticing the girls…"
Arlo listened, enjoying the playful illustrations of Henry Cole very much, as the penguins swim together, walk together, sing together... They're not exactly 100% anthropomorphic. I can tell Cole spent a long time studying actual penguins in order to get their look and their body language just right, but he does give them very expressive eyes and half-crescent eyebrows, a slight upturn of a smile superimposed upon their beaks. He does a great job of being simultaneously realistic and fanciful.
As the story moves towards its resolution, there is a loud CRAAAACK! after which which baby Tango emerges from his egg, to the delight of both Roy and Silo, and to the delight of all the schoolchildren who would come to the zoo forever after and celebrate the penguin family.
"At night the three penguins returned to their nest," the book concludes. "There they snuggled together and, like all the other penguins in the penguin house, and all the other animals in the zoo, and all the families in the big city around them, they went to sleep."
I shut the book and set it down.
Arlo silently absorbed what he'd just heard.
"So, what did you think?" I prodded. "Did you like it?"
"Yes," he said cautiously. He had a bit of a disturbed look on his face. "Except, I didn't like the part where there was no momma."
"Oh." I frowned. "Well… suppose it had been about two moms and there was no daddy? What would you think of it, then?"
In a moment, Arlo's eyes twinkled, a wide grin spread across his entire face and he exclaimed, "Yeah! That would be great!"
6.13.2011
Written by
Leslea Newman
Illustrated by
Mike Dutton
Gouache with Digital Finish
Typeset in Advert and Franklin Gothic
Tricycle Press
As with many books dealing with same-sex relationships and marriage in recent years, the same-sex aspect of the story does not enter into the narrative in a significant way, but seems more a part of the backdrop. In fact, it is not until the final pages in which we learn that the marriage in question involves "mommy" and "mama."
This is a contrast with Newman's famous take on same-sex relationships in
Heather Has Two Mommies
- in which the question of gender was the source of some angst.
Heather Has Two Mommies
was a question.
Donovan's Big Day
is a celebration.
Every character appears to be heady with excitement and anticipation, not the least of which is Donovan himself, the young child of the two mothers, maneuvering his way through their busy world of grown-up responsibilities and wedding-day preparations, mentally cataloging his epic quest every step of the way in a series of bouncing run-on sentences:
He had to be the first one to hop off his seat, scramble out of the car, scurry up some steps, hurry through a large, sunlit lobby, and dash into a loud, crowded room full of hundreds of grown-ups all dressed up in their very best clothes and he had to say hello to every single one of them while they shook his hand, gave him a hug, kissed his cheek, and told him how very handsome he looked on this very BIG day.
The entire book is composed in this frenetic style, and I love phrases like, "hundreds of grown-ups," which gives the proceedings the feel that this is an alien terrain through which young Donovan - and all children, after a fashion - must journey. The ways of grown-ups are not his ways, and so it is imperative that he memorize and go through such a long list of responsibilities, in the pursuit of this, this happiest of all occasions, "when the tall grown-up in the long, black robe said, 'I now pronounce you wife and wife."
12.12.2010
Written and Illustrated by
Sarah S. Brannen
Watercolor and graphite on cold press watercolor paper
Text set in Espirit
Designed by Katrina Damkoehler
G.P. Putnam's Sons
Such a simple tale, told gracefully with warmth and humor, it is perhaps shocking that it remains such a controversial book.
"Bobby was Chloe's favorite uncle. They went for long walks together," Brannen writes, and there they go, the two guinea pigs, hand in hand, strolling nonchalantly through the woods, through which shafts of light pierce.
Later we see them rowing on a lake beneath the moonlit sky, and Uncle Bobby seems to be pointing out constellations to the young girl. They are truly the best of friends. However, this friendship is tested when Chloe discovers that Bobby is getting married to his friend Jamie!
All of their friends and relatives whoop and holler at the news, laughing and crying and feeling generally congratulatory... all except Chloe.
"I still don't think you should get married. You have me! We can keep having fun together, like always."
After awhile, however, Chloe warms to the idea, and to Jamie.
"I wish you were both my uncles," said Chloe.
"You get your wish, sweetheart," said Bobby. "When we get married, you'll have an Uncle Jamie, too."
They have this exchange whilst roasting marshmallows in a fireplace, an unfinished game of Monopoly laying behind them. Brannen has a real eye for these sort of relaxing, pastoral activities. The eponymous wedding is no different.
An afternoon breeze cooled the garden. Daisies and buttercups bloomed in the grass and the air smelled like roses.
All of the guests are barefoot - which isn't so remarkable since going back through the book I see that everyone is always barefoot - but even so, taking in the blooming flowers and the soft grass and the sunshine, I like to think that they're
especially
barefoot.
That night, all in attendance dance to the light of the moon, holding hands and frolicking, the air filled with fireflies.
"That was the best wedding ever," said Chloe. "I planned it all from the beginning."
This book was first reviewed in Tales and Their Tellers 4: "
We're Here, We're Queer, and We're Anthropomorphic
!"
12.04.2010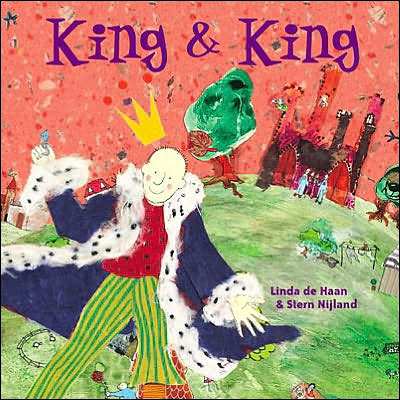 Written and illustrated by
Linda

de

Haan
and
Stern

Nijland
Tricycle Press
The Crown Kitty and Friends Cordially Invite You to Celebrate a Royal Wedding
Reception to follow in the Royal Gardens
Bring Lots of Presents
There's a manic energy in this picture book. It is a
cacophony
of collage and jarring color schemes. The first page announces the premise:
On the tallest mountain above the town lived a queen, the young crown prince, and the crown kitty. The queen had ruled for many years and she was tired of it. She made up her mind that the prince would marry and become king before the end of the summer.
Pretty straightforward, as picture book fantasies go. To describe the opening illustration, which offers an overview of the kingdom in question, is not so straightforward. I feel certain that the artists created their own handmade paper to serves as the sky, a peach colored paper in which the bits of shredded newspaper used in making it are still visible. The sun pulsates like a satellite dish, surrounded by stars, clouds, jet planes and hot-air balloons. The earth looks like
fingerpainted
hills, upon which cutouts of simple houses have been pasted haphazardly.
This is the kingdom of the young crown prince, a balding, sickly, pale-faced fellow wearing brightly colored clothes and a comically
oversized
two-dimensional crown.
"I don't understand you. When I was your age, I'd been married twice already!" his mother barks at him from the far end of the dinner table. From out of her mouth come flying tiny words, pasted together like cut-up ransom notes. "To care for," "Excellence," "love," "
traumhochzeit
!" along with an assortment of fish-bones, beetles, ants, airplanes and hearts.
Finally, after calling every "castle,
alcazar
and
palazzo
near and far," the queen arranges for a bevy of
grotesqueries
to parade for her son, with their oddly disjointed limbs and extreme proportions. Not even Princess
Rahjmashputtin
from
Mumbai
can charm the seemingly overly-picky Prince.
"Wait! There is one more princess. Presenting Princess Madeline and her brother, Prince Lee!"
Aha! True love at last! Stand aside, young, blond Disney princess, for it is the blue-eyed, devil-
goatteed
brother of yours who causes a cascade of hearts to come pouring forth from the Prince's chest. And the feeling, as they say, is mutual.
With a flip of the page, the two are wed, and following another turn of the page, they are seen lounging about a giant chess board beneath the peach-colored sky, surrounded by the manic collage and jarring color scheme and everyone, we are told, "lives happily ever after."