A quest for knowledge through the lens of picture books. Focusing on the mythological, the spiritual and the socially progressive in stories and storytelling. The revolution will be illustrated.
6.11.2012
Retold by
George Ella Lyon
Illustrated by
Christopher Cardinale
Cinco Puntos Press
Phew, this one is great, great, great. A great book and an important book. This is only the second
Cinco Puntos Press
book I've reviewed (the other being the amazing
Crossing the Bok Chitto
), and I am extremely impressed. They know what's up.
My wife bought me a Pete Seeger album a couple of years ago, containing two CDs. The first had all of Pete's kid's songs and stories - Abiyoyo and the Foolish Frog and the like. But the second disc was filled with old union and labor songs. I'm happy to say, my 5-year old son Arlo took to the union songs just as well as the others, especially the rousing, "Solidarity Forever!"
One of the songs on the album was, of course, "Which Side Are You On?" and though I had no idea of the story behind the song, the tempo always strikes me when I listen to it. Most of are upbeat and filled with pride. They had to be. This one, however, feels mournful to me, creeping with dread.
"Come all you poor workers, good news to you I'll tell, of how the good old union has come in here to dwell."
It was written by Florence Reece in 1931, the wife of a coal miner and the mother of seven, and this story is told in the voice of one of those seven children, talking about her pa working in the mines, blasting and loading coal, putting food on the table, how they live in a coal company house on coal company land, and how their Pa gets paid in money that can only be redeemed at the coal company store.
"He says the company owns us sure as sunrise. That's why we've got to have a union. Pa says if miners get together and say what they want and refuse to dig coal till they get it our lives will get better," she tells us, adding, "They ain't better yet."
From there, the book takes a startling turn. Without explanation, the next page finds the children peeking out from under their bed while their mom hides behind a beam. Their pa is a union organizer and the thugs are after him. Should they call the sheriff? No. The sheriff is the man who hired the thugs in the first place. The book even calls him by name: Sheriff Blair, as does the song:
"If you go to Harlan County, there is no neutral there. You will either be a union man, or a thug for J.H. Blair."
Suddenly, a bullet zips through the wall, just as their mom yells out, "Any of you youngins got a pencil?" and so the song comes to be written.
"When the thugs finally quit shooting and we crawl out of hiding, we're sore and hungry, and our house is busted up, but Ma has written us a song."
I felt pretty swept up in the telling, but the author's note brought me down a bit, as she writes that there are "many accounts of how Florence Reece wrote the song and they won't all agree."
This version, however, comes only twice removed. A woman named Bev Futrell heard this version from Reece herself at her 85th birthday celebration. The story changes and grows, the song changes and grows. Verses have been added to the original song to reflect struggles through the years.
Here's the woman herself singing it.
And here's the group Rebel Diaz singing a version of it.
Please listen to both of these versions, in their entirety, one following the other, for an out-of-body experience.
1.25.2011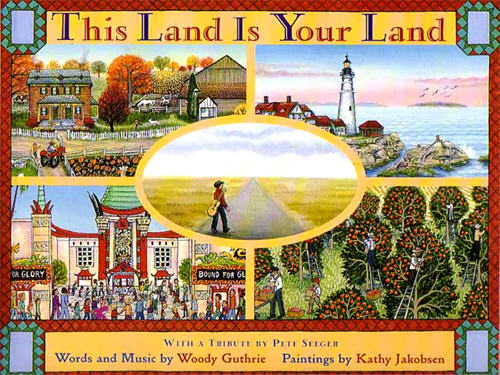 Written by
Woody Guthrie
Tribute by
Pete Seeger
Illustrated by
Kathy Jakobsen
Oil on canvas
Little, Brown and Company
This is a beautiful book which should be on everyone's bookshelf, not just because of its cultural significance, but because its just beautiful to look at.
Maybe everyone knows the chorus and the first verse of the song- and they may even know that it was written by a guy named Woody Guthrie, but its a good bet that they don't know all six verses - which this book reproduces and illustrates, and that the verses become progressively more challenging as they go along, a song which begins as a pastoral appreciation of America's beauty becomes an indictment and a call to Freedom.
In an appreciation which comes at the end, Pete Seeger writes about hearing the song for the first time in 1949, "[...they] omitted some of the best verses. Nowadays Arlo Guthrie and I and many others make sure to include them. Because its important to remember that if the sign says, 'No Trespassing' on one side, on the other side '
it didn't say nothing
."
I actually went to see Arlo Guthrie two months ago at the Keswick Theatre in Glenside, PA - along with my wife and our son Arlo - and I can certainly verify that that is the case.
Kathy Jacobsen is an acclaimed folk artists whose paintings are in the permanent collection of the Museum of American Folk Art at the Smithsonian. About the artwork, we read that it was, "Inspired by notch carvings found in traditional 'tramp art' - boxes, picture frames, and mirror frames crafted by tramps, hoboes, miners and lumberjacks in the early to mid- 1900's.'
Flipping through its pages, she paints many beautiful scenes of Americana - Mount Rushmore, the Golden Gate Bridge, the deserts of Utah... and in each image, I found myself searching for Woody Where's-Waldo-style - wearing his checkered shirt, guitar slung on his back, a smile on his face. But she doesn't shy from showing the dismal as well: soup kitchen lines, vandals, garbage. It's for this reason I felt the book deserved inclusion in this index.
In the shadow of the steeple I saw my people;
By the relief office I seen my people;
As they stood there hungry, I stood there asking,
Is this land made for you and me?