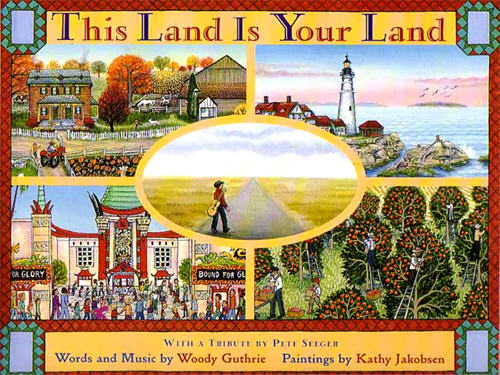 Written by
Woody Guthrie
Tribute by
Pete Seeger
Illustrated by
Kathy Jakobsen
Oil on canvas
Little, Brown and Company
This is a beautiful book which should be on everyone's bookshelf, not just because of its cultural significance, but because its just beautiful to look at.
Maybe everyone knows the chorus and the first verse of the song- and they may even know that it was written by a guy named Woody Guthrie, but its a good bet that they don't know all six verses - which this book reproduces and illustrates, and that the verses become progressively more challenging as they go along, a song which begins as a pastoral appreciation of America's beauty becomes an indictment and a call to Freedom.
Endless skyway.
In an appreciation which comes at the end, Pete Seeger writes about hearing the song for the first time in 1949, "[...they] omitted some of the best verses. Nowadays Arlo Guthrie and I and many others make sure to include them. Because its important to remember that if the sign says, 'No Trespassing' on one side, on the other side '
it didn't say nothing
."
Sparkling sands of her diamond deserts.
I actually went to see Arlo Guthrie two months ago at the Keswick Theatre in Glenside, PA - along with my wife and our son Arlo - and I can certainly verify that that is the case.
...the fog was lifting, a voice was chanting...
Kathy Jacobsen is an acclaimed folk artists whose paintings are in the permanent collection of the Museum of American Folk Art at the Smithsonian. About the artwork, we read that it was, "Inspired by notch carvings found in traditional 'tramp art' - boxes, picture frames, and mirror frames crafted by tramps, hoboes, miners and lumberjacks in the early to mid- 1900's.'
In the shadow of the steeple.
Flipping through its pages, she paints many beautiful scenes of Americana - Mount Rushmore, the Golden Gate Bridge, the deserts of Utah... and in each image, I found myself searching for Woody Where's-Waldo-style - wearing his checkered shirt, guitar slung on his back, a smile on his face. But she doesn't shy from showing the dismal as well: soup kitchen lines, vandals, garbage. It's for this reason I felt the book deserved inclusion in this index.
In the shadow of the steeple I saw my people;
By the relief office I seen my people;
As they stood there hungry, I stood there asking,
Is this land made for you and me?