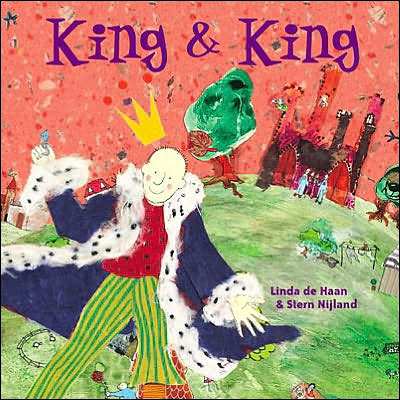 Written and illustrated by
Linda

de

Haan
and
Stern

Nijland
Tricycle Press
The Crown Kitty and Friends Cordially Invite You to Celebrate a Royal Wedding
Reception to follow in the Royal Gardens
Bring Lots of Presents
There's a manic energy in this picture book. It is a
cacophony
of collage and jarring color schemes. The first page announces the premise:
On the tallest mountain above the town lived a queen, the young crown prince, and the crown kitty. The queen had ruled for many years and she was tired of it. She made up her mind that the prince would marry and become king before the end of the summer.
Pretty straightforward, as picture book fantasies go. To describe the opening illustration, which offers an overview of the kingdom in question, is not so straightforward. I feel certain that the artists created their own handmade paper to serves as the sky, a peach colored paper in which the bits of shredded newspaper used in making it are still visible. The sun pulsates like a satellite dish, surrounded by stars, clouds, jet planes and hot-air balloons. The earth looks like
fingerpainted
hills, upon which cutouts of simple houses have been pasted haphazardly.
This is the kingdom of the young crown prince, a balding, sickly, pale-faced fellow wearing brightly colored clothes and a comically
oversized
two-dimensional crown.
"I don't understand you. When I was your age, I'd been married twice already!" his mother barks at him from the far end of the dinner table. From out of her mouth come flying tiny words, pasted together like cut-up ransom notes. "To care for," "Excellence," "love," "
traumhochzeit
!" along with an assortment of fish-bones, beetles, ants, airplanes and hearts.
Finally, after calling every "castle,
alcazar
and
palazzo
near and far," the queen arranges for a bevy of
grotesqueries
to parade for her son, with their oddly disjointed limbs and extreme proportions. Not even Princess
Rahjmashputtin
from
Mumbai
can charm the seemingly overly-picky Prince.
"Wait! There is one more princess. Presenting Princess Madeline and her brother, Prince Lee!"
Aha! True love at last! Stand aside, young, blond Disney princess, for it is the blue-eyed, devil-
goatteed
brother of yours who causes a cascade of hearts to come pouring forth from the Prince's chest. And the feeling, as they say, is mutual.
With a flip of the page, the two are wed, and following another turn of the page, they are seen lounging about a giant chess board beneath the peach-colored sky, surrounded by the manic collage and jarring color scheme and everyone, we are told, "lives happily ever after."